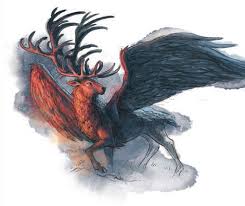 Perytons are a golden, winged deer with fangs, sharp hooves and poisonous antlers. While perytons can fly, many prefer to do a combination of gliding and leaping when moving quickly.
In Secrets of the Dragon Sanctuary, the team who entered Wyrmroost were escorted by a herd of perytons fleeing the dragon Nafia. One gored Warren, seriously wounding him. Mara also tamed and rode one of them.
In Wrath of the Dragon King, Tempest, the Griffin, startled some Perytons to enable her, Seth, and Eve to get away from the Dragon Jaleesa.
Source
Community content is available under
CC-BY-SA
unless otherwise noted.